Park Sentry
Quote Now
An attractive way to increase visibility and add protection around parking structure columns.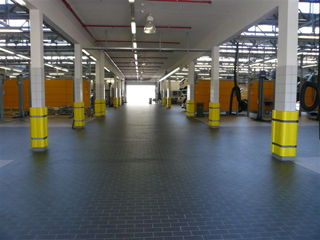 Park Sentry® helps protect columns and vehicles from damage by adding a scratch-resistant layer of protection around concrete columns. It's easy to install and lets drivers park closer to the columns, virtually expanding the useable parking space.
Molded from a thin layer of specifically engineered ARPRO® material, Park Sentry protector buffers the column with scratch-free padding. Its unique design offers extra protection in the 90 degree corners where most collision damage occurs. Park Sentry can be customized to fit any square or rectangular concrete column. Ideal for car-park applications because it maximizes protection without sacrificing parking space. Park Sentry covers the "splash zone" preventing column corrosion from road salts and debris.
Features
1.6" (40mm) thick plank for low-profile installation
Interlocking pieces create one-piece wrap-around product to surround column
Recessed belt creates seamless appearance
Easily modified to fit any sized square or rectangular column
Oil, chemical, water and flame resistant
100% recyclable materials
Available in yellow and black
Corner Features
Extra thickness and density where collisions are most likely to occur
Corner overlaps plank to create seamless complete coverage for concrete columns
Offset grommets hidden under strap recess for optional mechanical installation
Plank Features
Lighter density than corner
"Progressive Resistance" technology -- resistance increases as collision force increases
Vertical ribs every 1.6"(40mm) act as cutting guides for customizing size
Grommets hidden under strap recess for optional mechanical installation
Strap Features
Adjustable Straps: 120"(approx. 3m) in length
Easy to install and secure
Integrated 5-band reflective thread for high-visibility in dimly lit parking structures
Please fill out the form below.
Ready to order?
Call us 1-800-756-3537
---
There are no products to list in this category.